HA 2021 Conference Book of Abstracts

The 13th conference of the International Society for Hyaluronan Sciences, HA 2021, was held virtually on June 14th and 15th.
Conference organizers Larry Sherman and Paul Bollyky had lined up an excellent set of invited and selected talks, and the poster sessions were equally impressive.
ISHAS president, Tony Day, opened the meeting with an award to a giant in our field of hyaluronan (HA) research, Vince Hascall.  Vince's long-standing colleague, Carol de la Motte, highlighted memorable times and stages in Vince's studies of HA which Vince elaborated on in his presentation of some of his key findings. Perhaps what stood out most was the vital role that Vince had played as a collaborator and cheerleader for innumerable scientists that entered into the HA field.  It all culminated with the awarding of the 2021 "Rooster Prize". Established in 2003, the rooster prize honors individuals who have made a significant contribution to the HA field.
Keynote speaker Gijsje Koenderink set a high bar for the meeting with her talk on "Biophysics of HA across scales". Her laboratory has used rheology to examine the changing physical state of HA mediated by changes in interactions and bonding at different pH values.  This high standard continued to be upheld throughout our 5 sessions which covered HA Synthesis and Metabolism, HA in Signaling and Cell Biology, HA in Stem Cells, Development & Aging, HA in Disease, and Advances in HA Biotechnology.
As the meeting progressed it was clear that HA continues to have a role in a diverse range of cellular functions which continue to bring new faces into the HA family. A few themes that appeared repeatedly were 1) the metabolic state of the cell plays a critical role in HA regulation and vice versa, 2) both CEMIP and TMEM2 are important in regulation of HA in health and disease, 3) HA levels are high in SARS-CoV2 infection and could be a target for therapy. HA has many biotechnology applications and individuals working in these fields are making important advances that will impact health.
Excellent presentations and contributions to the field were recognized with a series of awards. Dr Aaron Petrey was the inaugural recipient of the prestigious Endre Balazs and Janet Denlinger Award that recognizes researchers at an early phase of their independent research career for making a significant contribution to the development of hyaluronan science. The Mark Lauer Prize was given to Taasin Srivastava for his talk on HA modelling during brain development. A series of prizes were also awarded for fantastic poster presentations to Irina Grigorieva, Rashi Karunasinghe, Michael Lockhart-Cairns/Xiaoli Zhang, Hunter Martinez, Arianna Parnigoni, and Chunyue Wang.
We are extraordinarily grateful to the organizing committee and our Sponsors. Grants were provided by The Frost Family Fund, Halozyme, and the Matrix Biology Institute. Platinum sponsors included Altergon, Bioventus, Bloomage Biotech, Contipro, F1 BioVentures, Falgagen, Fidia Pharma Group, Halozyme, HTL Biotechnology, Kewpie Corporation, Lifecore Biomedical, Likarda, Seikagaku Corporation, Shandong Topscience Biotech Company and SyrHA Technologies. Gold sponsors were Echelon Biosciences and Tokyo Chemical Industry Company.
If you enjoyed this meeting, it was just a teaser for what you can expect in Portland at Hyaluronan 2023! Hope to see all of you there.
HA 2021 Meeting Statistics
In keeping with the original mission of ISHAS to integrate basic, clinical and applied sciences in the hyaluronan field, the HA 2021 conference attracted 240 registrants from around the world (from 21 countries), with 194 from an academic/clinical setting and 46 from the private sector. We were also pleased to have a high number of registrants (79; 33%) who are trainees in HA research, thus representing the future of our field.
HA 2021 Conference Awards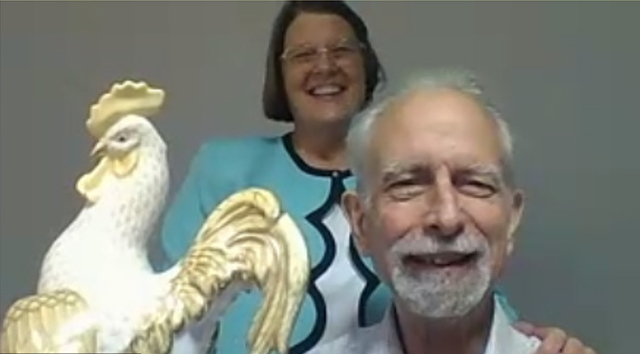 2021 recipient: VINCENT C. HASCALL
To acknowledge his work over more than five decades on the biology of hyaluronan
Thanks to the Matrix Biology Institute for providing the Rooster Prize
ISHAS Awards Committee: Paul Bollyky, Tony Day, Glenn Prestwich & Ralf Richter
Irina Grigorieva – ISCHAEMIC PRE-CONDITIONING (IPC) DRIVES EXPANSION OF A PROTECTIVE HAS1 POSITIVE CELL POPULATION IN THE RENAL STROMA, TUBULES AND VASCULATURE
Rashi Karunasinghe – THE HYALURONAN CORNERSTONE: AN EXTRACELLULAR MATRIX MOLECULE THAT REGULATES EARLY NEURITE OUTGROWTH IN HIPPOCAMPAL NEURONS
Michael Lockhart-Cairns & Xiaoli Zhang – TOWARDS A STRUCTURE OF PTX-3: INSIGHTS INTO ITS INTERACTIONS WITH IαI HEAVY CHAINS THAT MEDIATE HA CROSSLINKING
Hunter Martinez – CD44V6 PROMOTES FOXP3 TREG HOMEOSTASIS BUT ITS EXPRESSION IS REDUCED IN T1D
Arianna Parnigoni – HAS2-AS1 OVEREXPRESSION MEDIATES APOPTOSIS INDUCTION IN MDA-MB-231 TRIPLE NEGATIVE BREAST CANCER CELLS INDEPENDENTLY FROM HYALURONAN METABOLISM
Chunyue Wang – HYALURONAN, A SCAFFOLD FOR SUPERSELECTIVE TARGETING OF TUMOUR CELLS

Poster Judging Committee: Carol de la Motte, Maria Grandoch, Nadine Nagy & Tom Wight
HA 2021 Conference Platinum Sponsors
HA 2021 Conference Gold Sponsors