New in 2023; Corporate Affiliate Program and Research Grant and Scholarship Programs.
Call for Applications for New ISHAS Grants
ISHAS is proud to announce the availability of a new grant program to support members of the society.
There are three types of award: ISHAS Personal Scholarships, ISHAS Research Travel Grants, and ISHAS Research Grants.
These grants and scholarships are supported by the recently-launched ISHAS Corporate Affiliates Program, currently including the founding members HTL Biotechnology, LifeCore Biomedical, and SyrHA Technologies. Award details and applications forms are available on the Research Grants and Scholarships page.
Please hold the date! June 8-12th, 2025
The 15th conference of the International Society for Hyaluronan Sciences, HA 2025, will be held in Chicago, Illinois
Follow this link to see more about the Q Centre meeting venue and what you can expect; Qcenter.com
Stay tuned for more details!
Registration will open in the fall of 2024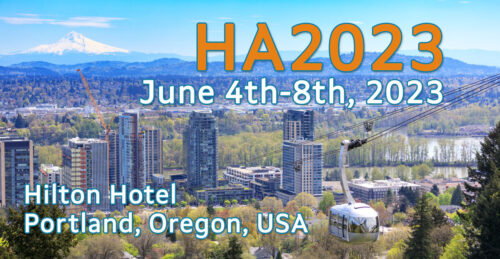 Hyaluronan 2023, the 14th conference of the International Society for Hyaluronan Sciences, was held between June 4th and 8th at the Hilton Hotel, Portland, Oregon. The beautiful weather and ideal location provided a perfect backdrop to rekindle old and build new friendships and collaborations.
After not meeting in person for 4 years, HA researchers were excited to hear the latest findings from the HA field. The HA 2023 conference attracted 142 attendees from more than 15 countries. This included representation from 25 different companies, reflecting the broad application of hyaluronan in industry.
We are committed to building an inclusive international community. To that end, ISHAS is pleased to waive our membership fee for individuals who are citizens of countries outside of OECD or China.
2023 Endre Balazs and Janet Denlinger Award. This award recognizes researchers at an early phase of their independent research career for making a significant contribution (i.e., a body of work) to the development of hyaluronan science. The Award will be presented at the HA 2023 Conference.
---
ISHAS Renato Iozzo Singular Achievement Award for the most significant contribution to the HA field since the HA2021 conference. Awards were presented at HA 2023!
For details, please visit the Awards page!
Why Become an ISHAS Member?
Pursue your passions, Grow your knowledge and Build New Friendships
Sign up for our Newsletter